Note: This is another guest blog by Kyle Grossmiller. Kyle is a Sr. Solutions Architect at Pure and works with Cody on all things VMware.
One of the (many) fun things we get to work on at Pure is researching and figuring out new ways to streamline things that are traditionally repetitive and time-consuming (read: boring). Recently, we looked at how we could go about automating the deployment of FlashStack™ end-to-end; since a traditional deployment absolutely includes some of these repetitive tasks. Our goal is to start off with a completely greenfield FlashStack (racked, powered, cabled and otherwise completely unconfigured) and automate everything possible to end up with a fully-functional VMware environment ready for use. After some thought, reading and discussion, we found that this goal was achievable with the combination of SmartConfig™ and VMware Cloud Foundation™.
Automating a FlashStack deployment makes a ton of sense: From the moment new hardware is procured and delivered to a datacenter, the race is on for it to switch from a liability to a money producing asset for the business. Further, using SmartConfig and Cloud Foundation together is really combining two blueprint-driven solutions: Cisco Validated Designs (CVDs) and VMware Validated Designs (VVDs). That does a lot to take the guesswork out of building the underlying infrastructure and hypervisor layers since firmware, hardware and software versions have all been pre validated and tested by Cisco, VMware and Pure Storage. In addition, these two tools also go through setting up these blueprints automatically via a customizable and repeatable framework.
Once we started working through this in the lab, the following automation workflow emerged: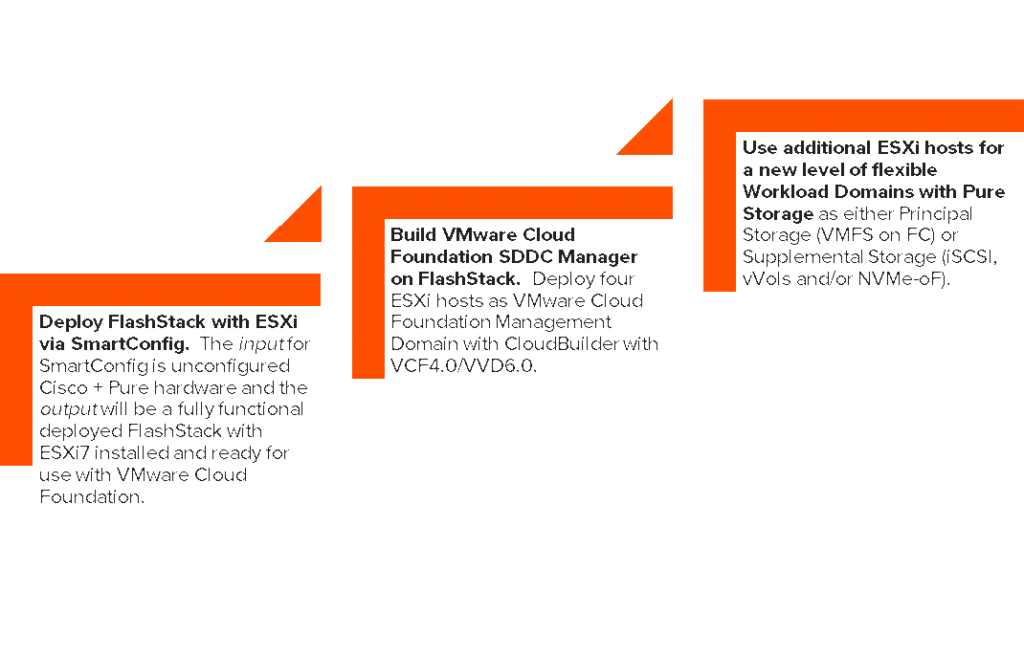 Along with some introduction to the key technologies in play, we have divided the in-depth deployment guide into 3 core parts.  All of these sections, including product overviews and click-by-click instructions are publicly available here on the Pure Storage VMware Platform Guide.
Deploy FlashStack with ESXi via SmartConfig. The input of this section will be factory reset Cisco hardware and the output will be a fully functional imaged/zoned/deployed UCS chassis with ESXi7 installed and ready for use with VMware Cloud Foundation.
Build VMware Cloud Foundation SDDC Manager on FlashStack. The primary input for CloudBuilder is, not ironically, the output of the work in part 1. Specifically, ESXi hosts and their underlying infrastructure, from which we will automatically deploy a Management Domain with CloudBuilder.
The last section will show how to deploy a VMware Cloud Foundation Workload Domain with Pure Storage as both Principle Storage (VMFS on FC) and Supplemental Storage (vVols). Options such as iSCSI are covered in additional KB articles in the VMware Cloud Foundation section of the Pure Storage support site.
Post-deployment, customers will enjoy the benefits of single-click lifecycle management for the bulk of their UCS and VMware components and the ability to dynamically scale up or down their Workload Domain deployment resources independently or collectively based upon specific needs (e.g. compute/memory, network and/or storage) all from SDDC Manager.
For those who prefer a more interactive demo, I've recorded an in-depth overview video of this automation project followed by a four-part demo video series that shows click-by-click just how easy and fast it is to deploy a FlashStack with VMware from scratch.
Craig Waters and I gave a Light Board session on this subject:
And this is an in-depth PowerPoint overview of the project:
Finally, this is a video series showing the end-to-end process in-depth broken into a few parts for brevity.