Pure Storage recently launched a new management pack for vROps that had a number of important fixes and some changes to the interface. You can download it here and find the full release notes here. What's new?
Interface changes

Updated icons
Restructuring of Pure Storage objects in the Object view of vROps

Add Offload Snapshot capacity metric
Add FlashArray Software™ version property
Let's go over the interface changes first. If you navigate to Environment -> Object Browser -> Pure Storage FlashArray -> FlashArray Resources -> PureStorage World and expand an array, the layout will look quite different than what was there before. For starters, the icons have almost all been updated to mirror what you would expect to see on a modern FlashArray Purity version (or vCenter if that is a vCenter object). We made this change to make the vROps management pack experience as close to the FlashArray experience as possible.

Additionally, we moved the structure of the objects around to be more consistent with what you'd expect from the FlashArray. No objects were removed and the same object can be listed in multiple places where it makes sense (for example, if you expand a Hosts group, you will see the pertinent volumes there as well as under the Volumes group).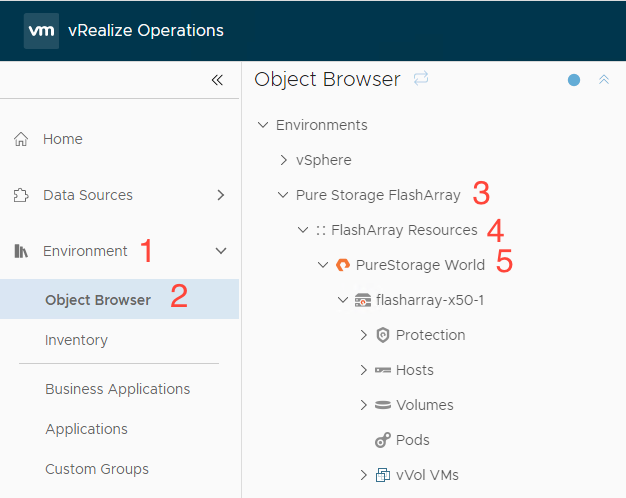 Next, we've added the Offload Snapshot capacity metric in this version as well as a FlashArray Offload Target object. The Offload Target object is visible under Protection and you can see the current space used by that Offload Target in the badge for that object; additionally, there is a Capacity metric for this object that shows historical consumption.

Lastly, you can now retrieve the Purity version of the array directly from vROps to help plan your FlashArrays' upgrades. This information is found by selecting a FlashArray and going to Metrics -> Properties -> Details -> Purity Version.