It is that time of year again! Eric Siebert at vSphereland has released the annual Top vBlog voting which can be found here:
http://vsphere-land.com/news/voting-now-open-for-top-vblog-2017.html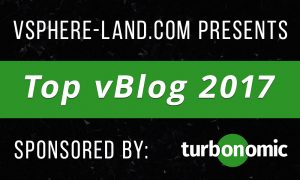 If my blog (or anyone in the VMware ecosystem) has helped you, please vote for it! I don't make any money on this blog (it just costs me money) so my reward is mainly knowing that it is helpful to people, so votes in this poll are always wonderful to see! It can be a surprising amount of work so thank you for your support! Makes it totally worth it.
Of course huge thanks to Eric and the sponsor Turbonomic for making this all possible–it is an incredible contribution to the community at large.
So here is to 2016 and continuing the fun through 2017 and beyond!
By the way, hope to see you at Pure//Accelerate, our company conference, in a few weeks! If you haven't registered please do!