It is that time of the year again! VMworld 2018 is just around the corner.
We (Pure Storage) have a fair amount going on this year at VMworld and I am really looking forward to the show.
A big focus this year for us is VVols–we have seen excellent traction from our customer base–it didn't take long for our VVol deployments to get to 100s of FlashArrays. We have a lot planned for VVols and there is a lot coming for the FlashArray around that.
So first off, how can you find out more about VVols? Well the simplest option is come stop by our booth–we will have demos galore around VVols and plenty of Pure employees to take your questions around them.
VVols
Also a few sessions.
My session should be useful to anyone interested in VVols. So if you are not a Pure Storage customer, but are interested in VVols, please come by!
Virtual Volumes Deep Dive with Pure Storage [VIN3776BUS]

With the release of VMware Virtual Volumes (VVols) 2.0, enterprise HA features now enable customers to use VMware integrated array-based snapshots and replication to address the performance limitations in VMware Snapshots. The Pure Storage FlashArray support for VVols 2.0 and VASA 3.0 enable VM Granular Storage, Storage Policy Based Management, Non-Disruptive Upgrades, and a Highly Available VASA provider, all managed via vCenter. The benefits of VVols 2.0 are compelling and migration with FlashArray is EASY!

SPEAKERS

Cody Hosterman, Technical Director, Pure Storage
Also one of our great customers is going to talk about his own experience with VVols! A company you probably have heard of, Krispy Kreme!
Hot Now: Original Glazed Virtual Volumes [VIN3354BU]

In this session, you will learn about Krispy Kreme's evaluation and implementation of VMware vSphere Virtual Volumes. Find out about the latest data center refresh where VMware implemented next-generation all-flash storage from Pure Storage and VMware vSphere 6.5. See how these technologies work with each other and the advantages that you get when your storage and virtual environment are fully leveraged.

SPEAKERS

Michael Bailess, Infrastructure Technology Manager, Krispy Kreme Doughnut Corporation

Also two great sessions by VMware from presenters who need no introductions:
Virtual Volumes (VVol) Deep Dive [HCI2810BU]

VMware vSphere Virtual Volumes is a framework developed by VMware and partners in the storage industry to transform the way VMs are stored by enabling VM-awareness on arrays. Virtual Volumes eliminate static storage constraints by removing LUNs, filesystems, and volumes, and giving the array direct visibility and understanding of the VM objects they store. This enables a flexible policy-based approach to storing and managing VMs without traditional concerns about capability and capacity management bounded by LUNs on the physical infrastructure. Learn about this revolutionary change in the way storage is delivered to VMware environments, and how this industry-wide initiative will allow you an efficient and intelligent new way to use your storage arrays and control and orchestrate per-VM replication.

SPEAKERS

Patrick Dirks, Staff Engineer, VMware

Pete Flecha, Sr Technical Marketing Architect, VMware
The Power of Storage Policy-Based Management [HCI1270BU]

The world of software-defined storage moves at a rapid pace, and VMware is one of the biggest enablers. In this session, Cormac and Duncan will guide you through the world of software-defined storage initiatives at VMware and provide a primer to VMware vSAN, VMware Virtual Volumes (VVol), persistent cloud-native storage options (Project Hatchway), the VMware vSphere APIs for I/O filtering, and the binding factor in these cases: storage policy-based management. Be warned: We will bring demos!

SPEAKERS

Duncan Epping, Chief Technologist, VMware

Cormac Hogan, Director and Chief Technologist, VMware
Also a panel session by VVol customers (Krispy Kreme is in on this one too) hosted by VMware VVol and Core Storage Product Manager Bryan Young:
Leveraging Virtual Volumes (VVol) to Simplify Storage Management [HCI2550PU]

Whether you are just thinking about how to leverage VMware vSphere Virtual Volumes or have been using them for a while, come hear directly from VMware customers on how they successfully deployed vSphere Virtual Volumes from proof of concept through production, deployment, and beyond. Panelists will present and answer questions on how they deployed vSphere Virtual Volumes in their enterprises. The session will cover why they chose vSphere Virtual Volumes, deployment strategies, and best practices for success.

SPEAKERS

Michael Bailess, Infrastructure Technology Manager, Krispy Kreme Doughnut Corporation

Bryan Young, Group Product Manager, VMware

JJ Seely, Sr. Server Administrator, NuScale Power, LLC
Demos!
In the booth we will have a ton of demos, Kubernetes with VMware and Pure, SRM with our active/passive replication and our active/active replication. Our vRealize Orchestrator, vROPs and Log Insight plugins/packs. vSphere Web Client. vMSC. VVols of course. Etc, etc.
But three of the things I am the most excited about are the following:
NVMe over fabrics with ESXi! We will have a LIVE demo in the Pure Storage booth of ESXi using VMFS with NVMe over fabrics! It will show our FlashArray//x with an unreleased version of ESXi that uses RoCE (RDMA over Converged Ethernet) to provision VMFS with NVMe from the FlashArray and host your VMs. A cool technology preview that we are very excited to demonstrate in our booth. Please stop by and take a look and ask questions!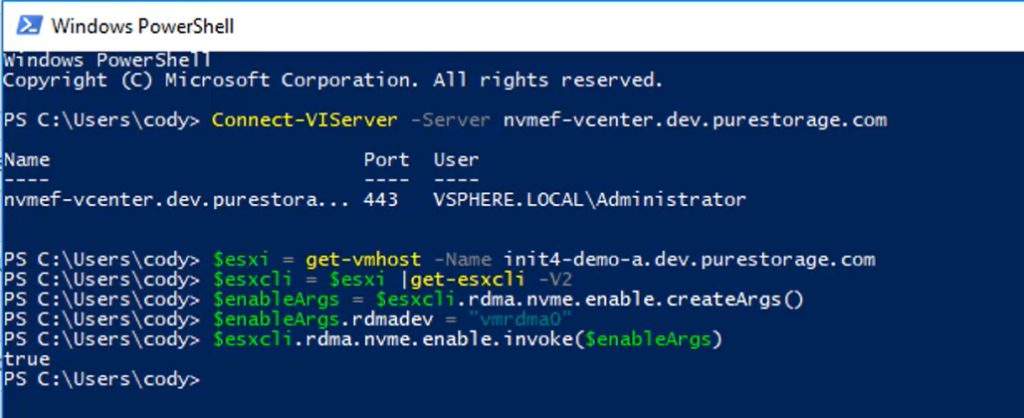 HTML-5 support in our vSphere Plugin. Our engineering is hard at work re-writing our vSphere Plugin for the HTML-5 vSphere Web Client. We are not just porting it over–we are looking at every feature and design decision we made for the original flash-based Web Client and seeing where it could be improved and changed. This is also a tech preview, but stop by and check it out!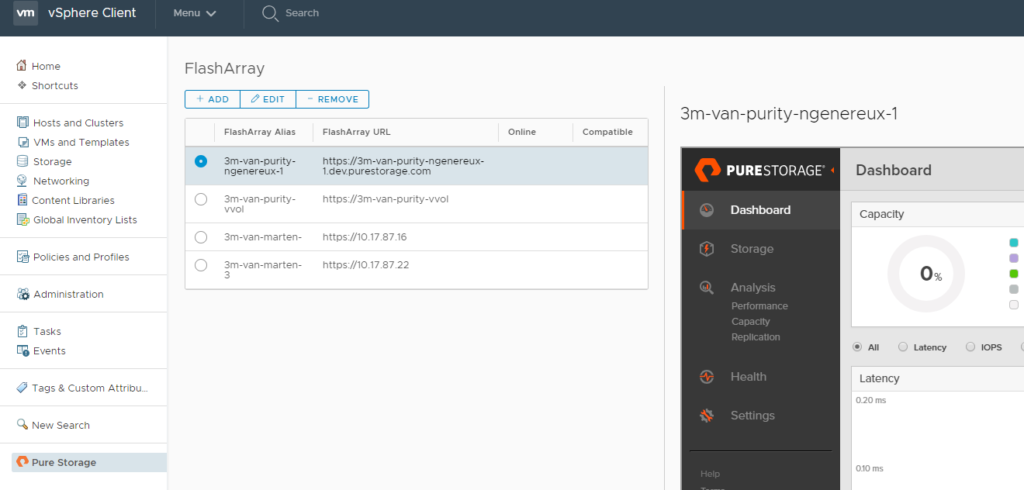 VM Analytics. This is a feature that is currently in beta, which we plan on aggressively expanding. This allows you to see your VMware environment and performance statistics in our Pure1 Cloud Management App. Drill down to VMDKs, look for noisy neighbors, see highest consumers etc.
This isn't everything, but should give you a nice glimpse into what we have in store at the booth.
More Sessions!
We are not only talking about VVols of course. Kubernetes, VVD and much more.
Using VMware Validated Design with All Flash Array to Deliver a True Private Cloud Experience [PRV2190BU]

VMware Validated Designs offer customers the ability to build and operate a software-defined data center (SDDC) that enables private cloud capabilities across mobility, standardization, and optimization throughout day x operations. In this session, find out how you can use VMware Validated Designs to remove technical debt from your business applications by adopting open standards APIs to deliver a single architected solution that meets multiple business requirements covering prod/dev/test/analytic use cases. See how Validated Designs provide a platform for continuous innovation by combining VMware technologies with a Pure Storage all-flash array to deliver services for infrastructure, application, and business resources that don't break the bank and continue evolving to meet future needs.

SPEAKERS

Mark Barajas, Cloud Technical Architect Innovation Sr Principle Journey-to-Cloud, Accenture

Craig Waters, Senior Product Manager, Purestorage
Best Practices for Kubernetes on VMware vSphere [VIN3762BUS]

Kubernetes is the platform of choice to deploy cloud native applications and services in the public or private cloud. How can you get started with Kubernetes on vSphere? What are the best practices and lessons learned running Kubernetes in a virtual environment? What tools and solutions can enable your own "as a Service" model for on premises private cloud, public cloud and multi-cloud? We will look at solutions such as Kubeadm, Kubernetes Anywhere, and Pivotal Container Services.

SPEAKERS

Jon Owings, Principal Systems Engineer, Pure Storage
I will also be doing a core storage best practices session alongside VMware:
Core Storage Best Practices [VIN2416BU]

With all the different storage arrays and connectivity protocols available today, knowing the best practices can help can operational efficiency and ensure resilient operations. VMware's storage global service has reported many of the common service calls they receive. We will review some of the common mistakes made when setting up storage arrays. We will go over the most common and most valuable configurations to maximize the value of your array and vSphere.

SPEAKERS

Cody Hosterman, Technical Director, Pure Storage

Jason Massae, Technical Marketing Architect, Core Storage, vSAN, VMware
See you at VMworld!