Well it's that time of year again. Well it's a bit past that time of year again–I should have written this a few weeks ago, but I've been busy! So deal with it!
Anyways, what's going on this year at VMworld when it comes to Pure? Well a fair amount!
So first, sessions!
Sessions
The first one I will mention is my annual session with VMware on External Storage Best Practices: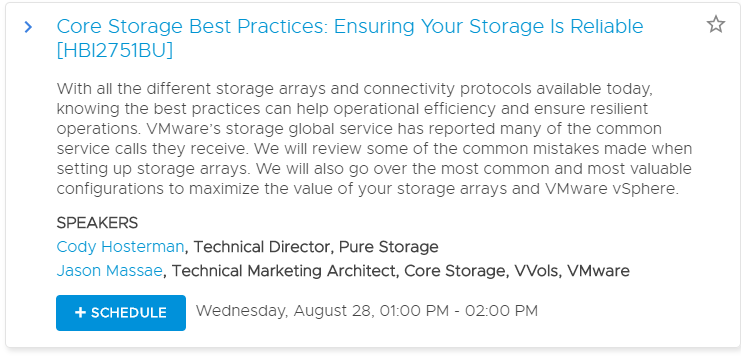 I've done this one now for a few years, used to be with Cormac Hogan and now with Jason Massae–one of my favorite sessions to do. We talk about best practices, general recommendations, and some new storage features that might be useful for your environment. Whether or not you are a Pure Storage customer will not matter for this one–we keep it vendor agnostic. Frankly, any session I give should not matter if you are a Pure Storage customer, I do my best to make it educational regardless.
Of course my next one is my deep dive on VVols. This time it will be slightly different than in the past, I am going to try to focus a bit more on use cases than necessarily every nut and bolt of VVols.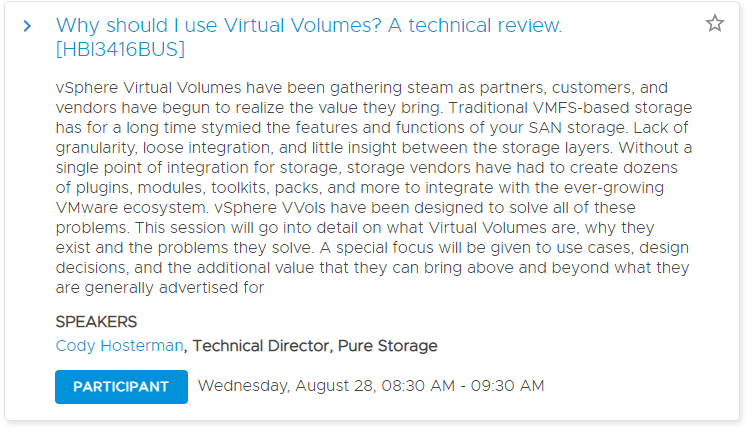 They just gave me a bigger room, but that one is filling up fast too! But regardless, even if it does fill up they will increase the size of the room if the registration demands it, so certainly still join the waitlist if that occurs.
Also, doing another session with VMware, Tech Preview of SRM and VVols! We have been really enjoying working with VMware on this, will be fun to share our progress.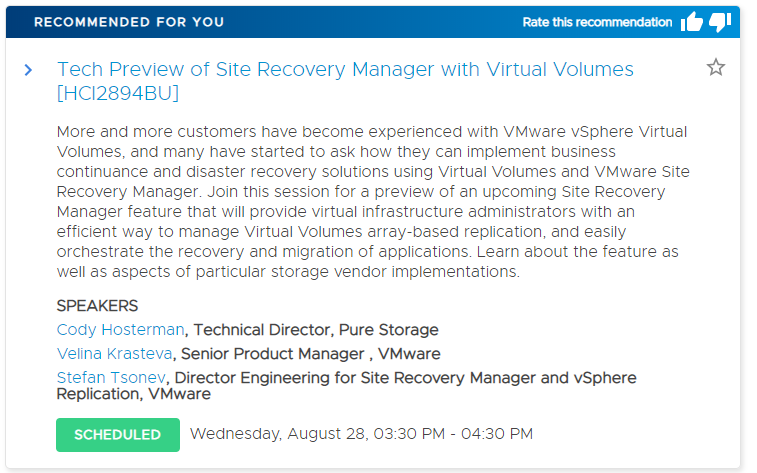 Lastly, I will be on a partner panel around VVols–myself, Eric Siebert of HPE, Andy Banta from NetApp/SolidFire, Ian Breitner from Dell EMC and Jason Massae from VMware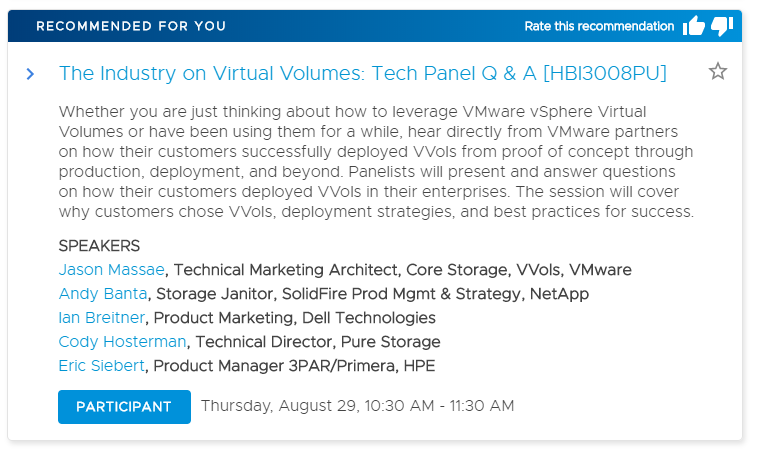 Okay, enough about me. I'm not the only one from Pure at VMworld. Another great session this year from the always incorrigible Jon Owings on Kubernetes. SPBM! SDDC! K8S! Oh my!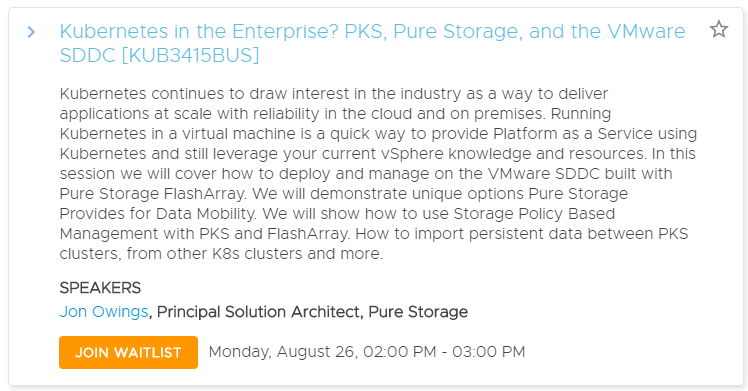 Also, our very own Marsha Pierce will be on a panel going into depth on SQL Server and VMware–which I know is near and dear to many hearts out there.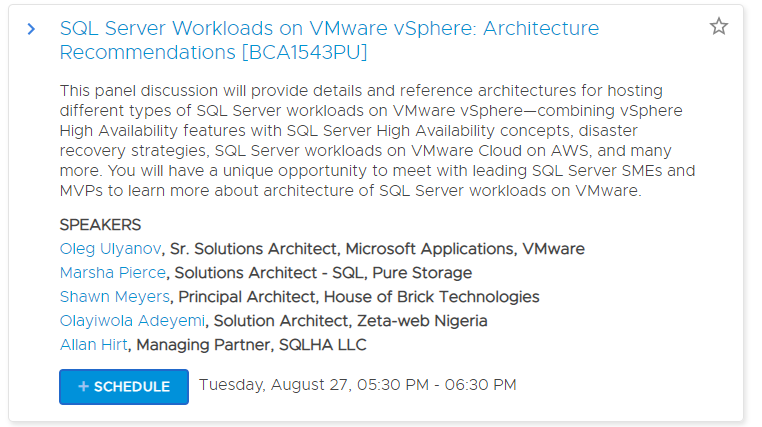 Also two vBrownbag sessions, one from the deservedly beloved Craig Waters around NVMe!

This will be a good one to attend–NVMe-oF is going to be a very hot topic for on-premises VMware in the next year. If you want a great primer, Craig will help!
The other vBrownbag is by one of the Solutions Architects who works for me. Alex Carver. Alex has been on my team for about a year, before that he worked in escalation support at Pure for many years. He knows his stuff!

He will be talking about how to move from those horrific RDMs to those love VVols when using Microsoft Failover Clustering.
The Booth
So sessions are fun, what's going on in the booth? Well quite a bit. We will have a lot of demos–everyone we have will be updated or brand new.
vSphere Client Plugin. HTML-5 support, VMFS, VVols and more! And maybe some cool new stuff too 🙂
Site Recovery Manager. Async replication, Active/Active replication. Async replication from Active/Active tech preview. SRM and VVols! A lot here.
vRealize Orchestrator. Pure1 Meta integration and intelligent provisioning. VVols. ActiveCluster. QoS.
vRealize Automation. Pure1 integration, VVols and more XaaS
vRealize Operations Manager. ActiveCluster and VVol updates
Log Insight. ActiveCluster and VVol updates
WaveFront. Pure1 integrations around array fleet analytics
VMware Cloud Automation Services. Cloud Assembly, Service Broker and more.
PKS–Pure Service Orchestrator and our new CSI offering
vMSC support
PowerCLI Module support
NVMe-oF. We support RoCE now and VMware is working on adding support, see what this means in the booth.
This is just a part, there will more!
This won't just be about the FlashArray–our new offering Cloud Block Store will be a huge part as well. CBS is our software offering that provides the features that the FlashArray offers, inside of AWS. There are a lot of very interesting use case around this in native AWS constructs (EC2 etc) and of course VMware Cloud on AWS.
We are taking public cloud seriously–Cloud Block Store is just the start! See ya there!