Hey all. Just wanted to let you know there is an updated Pure Storage FlashArray Storage Replication Adapter now posted on VMware's Site Recovery Manager compatibility guide: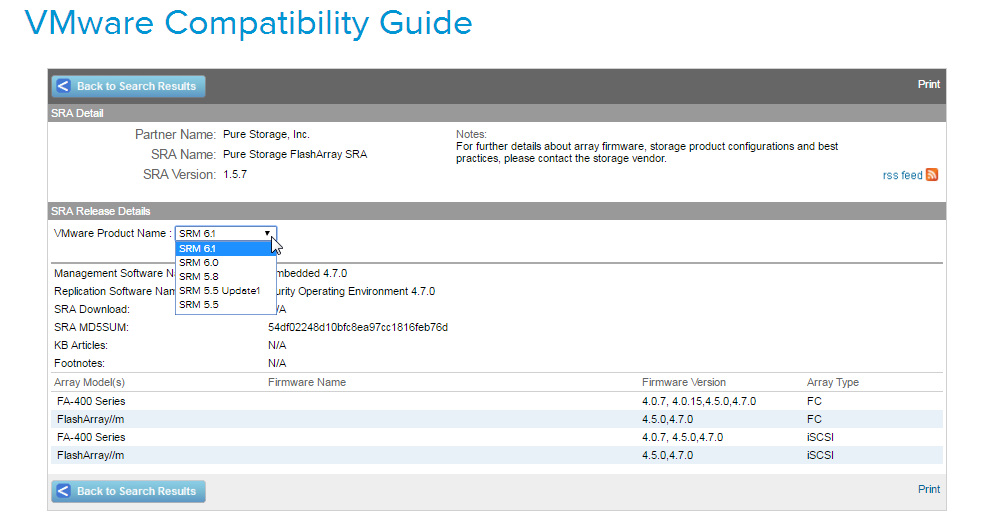 The SRA can be downloaded from VMware here:
This is the latest version fully supported by VMware and Pure Storage.
Notes on changes/features:
This is the minimum version of the SRA required for use with Purity 4.7. As you might be aware we deprecated SSL and requiring only TLS 1.1 and 1.2 connections with the FlashArray. This is the first version of the SRA that adheres to this. So if you want Purity 4.7 and are using SRM, you need this version.
Supports FlashArray 400 series and FlashArray//m
Supports all Purity versions from 4.0.x onwards (refer to support for recommended Purity levels as always)
Performance enhancements. Talk about this some more in a bit.
Fixes. All of the fixes that have been put out for various customers have been rolled up into this build.
This release supports version 5.5, 5.8, 6.0 and 6.1 of Site Recovery Manager.
So, in general, there is not a lot of new functionality in this release (new features will be focused in our next major release). This is mostly focused at compatibility and fix inclusion. But a major enhancement is performance improvement of failover.
Please note though, this is performance improvement in the algorithm of the SRA in identifying the proper snapshots etc. to failover with. Not with let's say replication itself, (improvements like that get integrated directly into Purity). The SRA improvement will greatly reduce the time it takes for the SRA to identify the correct snapshots to use as compared to how it used to look. Mostly only customers with large recovery plans or large amounts of FlashArray snapshots (thousands) will see the big improvements.
Essentially, the process used to iterate through a lot more steps when finding the latest snapshots for a volume or set of volumes, and the more volumes you had the longer it took by quite a bit. Now through some improvements in our logic and also using a few different REST calls to sort data for the SRA before we even get it, we reduce the number of API calls for each volume to be failed over from possibly hundreds to just a few. In large environments this means dropping the testFailoverStart process, for instance, from possibly 10 minutes or more, to a few seconds.
So who should upgrade?
Basically everyone, but there are few that should definitely do it sooner than later:
Customers with large recovery plans and/or large amounts of snapshots on their FlashArrays should definitely upgrade.
Customers who want to upgrade to Purity 4.7. This version of Purity requires this SRA, so upgrade the SRA first.
FlashArray//m customers. While the older SRA supports both the 400 series and //m, this version will officially list //m in SRM during SRA discovery, which is important for a comfort level thing. The official word is the VMware Compatibility Guide, but it is good to see all of the models there now.
Any one who has a SRA version that is between 1.0.319 and 1.5.7. Any release between those is an uncertified special fix/patch build. Upgrade to 1.5.7 to keep your special fix and also have a certified SRA. This is important for official VMware-based support.