FlashArray Receives the Highest Scores for Server Virtualization in 2019 Gartner Critical Capabilities for Solid State Arrays Report
This is a semi-non-technical post for once here, but somewhat of a state of the union which is something I've been meaning to write. A great thing to provide me with the impetus to do this is the recent 2019 Gartner Magic Quadrant for Primary Storage and the even more recent 2019 Gartner Critical Capabilities for Solid-State Arrays.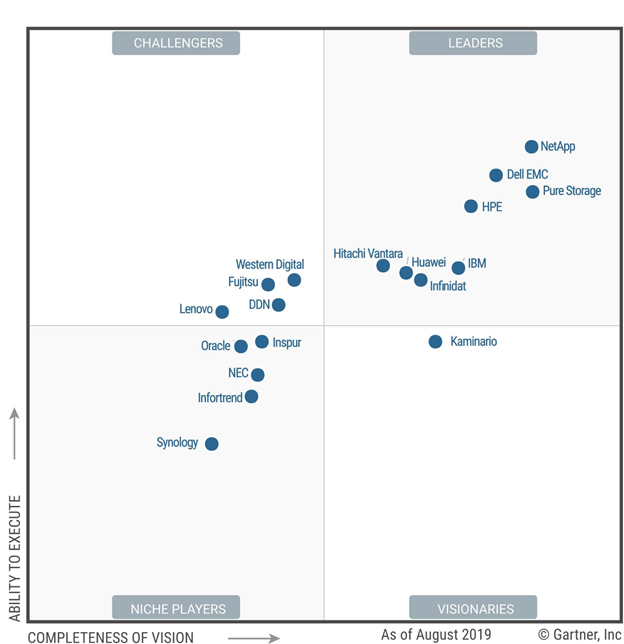 Pure Storage did quite well in both of these Gartner reports, but for this blog post, I want to talk about the Critical Capabilities report. Gartner summarizes the report as so:
"Solid-state arrays are the primary external enterprise storage solution for demanding transaction-oriented primary storage workloads associated with structured data. Here, Gartner analyzes 16 SSA product families across high-impact use cases for infrastructure and operations leaders."

2019 Gartner Critical Capabilities for Solid State Arrays
In this report, Gartner looks at qualifying storage arrays and grades them on a weighted scale for a variety of different use cases: OLTP, Server Virtualization, Virtual Desktop Infrastructure, High Performance Computing, and Analytics. Of the 16 products evaluated, FlashArray was second for OLTP, first for Virtualization, first for VDI, and fourth for both HPC and Analytics. Let's focus on Server Virtualization. This is the second year in a row that FlashArray has ranked highest in both the Server Virtualization and Virtual Desktop Infrastructure use cases.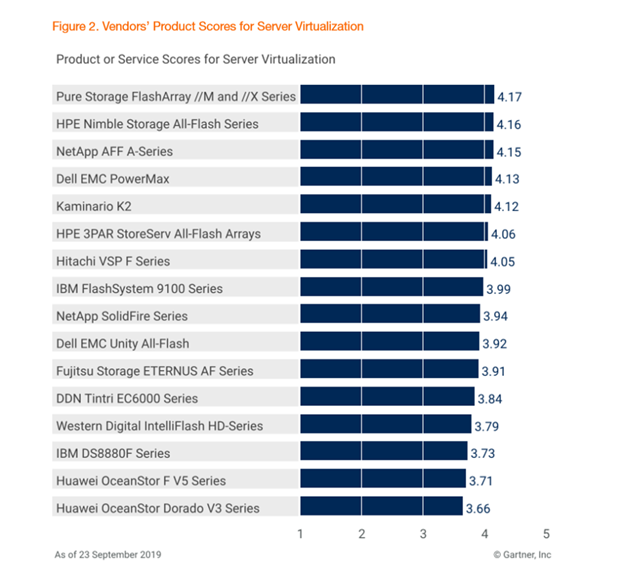 A lot of factors go into this, but for the purposes of virtualization lets dig into VMware, which is near and dear to my heart.
While I don't purport my reasoning to be Gartner's, I think the points I will make here align well to their high ranking of us in the report.
To start: simplicity. Our array is extremely simple to use, as regularly stated by Pure customers. This is fundamentally important when it comes to integration. Increasingly, IT administrators (regardless to their previous role) are finding themselves taking over a larger share of the stack. So how is that manageable? It's not if you follow legacy methods. You need to automate. Or integrate. Integrating something complex is…well…complex. Integrating something simple is…well…simpler. Pure makes it easy – not having to specify RAID levels, or whether encryption is on, or whether to use dedupe or not, or use compression, or configure a block size. When you have to think about those things, it makes it harder to provision (what are all of the ins and outs of that choice?!). Having a storage platform that does this for you is key. Tell us a size. Tell us a name. We create a volume. That's it. All of the features on our array are built with this in mind: what is the person trying to do? Provision 1 TB? Well let's make that the only question. Let's make the array smart enough to figure out how to do the rest. This is what you are paying for, no? This simplicity makes it easier for you to automate, for us to integrate, and our partners to incorporate.
Next is features. Integration does not mean much if there are no features to integrate with.
Asynchronous replication. We have snapshot based replication to copy volumes from one array to one or more at a given interval.
ActiveCluster™ Synchronous/Active-Active replication. Have a volume protected and writeable from two arrays at the same time.
Offload replication. Want to offload data from an array for longer retention. We allow replicating our snapshots from a FlashArray™ to another FlashArray, an NFS target, Amazon S3, or Azure Blob.
I/O throttling. IOPS limits or throughput limits. Set on a given volume or a set of volume in aggregate.
Snapshots. One off, or policy-based that introduce zero performance penalty.
Online resizing (growing or shrinking)
Built-in GUI, REST, CLI. No management servers needed.
Non-disruptive hardware and software upgrades. This is now table stakes.
Do we have every feature imaginable? No. Though there is some cool stuff coming. Do we charge for array features? No. If you have an array you get all of the features and new ones as long as your Evergreen™ support contract is active.
Of course, integration. Integration up the stack is what matters. If you can't manage the platform in the tool you want, all of the features and simplicity in the world may not matter to you. This is particularly important to me as I have been in charge of VMware integration at Pure for approaching 6 years.
VAAI. Allows the storage to scale. This is important for VMFS and vVols. On that note…
vVols. Of course. This integrates our management, our features, our array, into the intelligence of vSphere. Not some UI integration–into the provisioning smarts of vSphere itself. At the granularity that matters–this makes a VM and a VM volume (a virtual disk) a first class citizen on the array. Makes the array a first class citizen in vSphere. We support vVols and vVol replication, so the latest and greatest. This is the future of VMware storage, folks–vVols and vSAN. Anything less just doesn't make the cut.
vSphere Plugin. Not everything is in vVols and not everyone is using it. So our vSphere Plugin does allow users of vCenter directly to configure and setup our storage and see additional insights right in the vSphere UI. We support the flash and HTML-5 interface and are aggressively updating the latter.
Site Recovery Manager. Yes we have an SRA. It supports our async replication and active-active. We are working on a major update to add new topology support as well. We were a launch partner on the Photon-based SRM appliance as well. We are also design partners on the SRM + vVols work that is ongoing.
Cloud Block Store™. Our offering for FlashArray within AWS. CBS uses AWS resources (instead of on-premises hardware and flash) to provide the FlashArray feature set entirely in AWS. This will be particularly useful for VMware environments when VMware on AWS opens up external block support. Regardless, vVols + CBS provide a great way to move VMware on-premises datasets to EC2.
vRealize Orchestrator. We have a vRO plugin that is fully featured and certified by VMware. Inventory integration, configuration, VMFS, RDMs, vVols, intelligent provisioning. A ton of built-in workflows, actions, and libraries. We are about to start working on our next release. vRO is becoming more important as so, so, many VMware products can use it.
vRealize Automation. Our vRO plugin was designed with vRA in mind. The XaaS offering takes in our vRO workflows and allows you to assign them as needed to end users. Inventory control, RBAC, item actions, day 0 set up. All of it. Really powerful.
vRealize Automation Cloud. Formerly called VMware Cloud Automation Services (vCAS), this is based on the recently announced new vRealize Automation platform (or well really the other way around). vRAC can use vRO (and therefore our plugin) to manage CBS or the FlashArray. And even deploy CBS entirely as CBS is deployed via a CloudFormation template that vRAC Service Broker has native integration with.
vRealize Log Insight. We have a content pack that takes our syslog messages and creates dashboards, custom queries and alerts (or you can create your own). Recently updated for vVols and our active-active replication.
vRealize Operations Manager. We have a management pack that pulls in our metrics and alerts from our arrays and presents them in context with your VMware infrastructure via dashboards and inventory relationships in vROPs. We just updated this and will start a new version soon.
Wavefront. VMware's Wavefront is a tool we are investigating and have a proof-of-concept integration posted as we make it official.
vCloud Director. What MSP doesn't use it? We are working on a vCD plugin (that is vVol based) that we first displayed at VMworld US 2019. Look for this to be released in coming months. Of course our vRO plugin can be used with vCD as well.
VMware Validated Design. We were the first storage partner to complete a VVD with VMware and are working on getting VVD 5.0 done right now.
VMware Cloud Foundations. This is becoming really important–automated VMware stack delivery. We are working on a lot of day 2 integration (vRealize and the vSphere Plugin come into play) and are partnering with VMware on adding more storage options to it, like what just came out with Fibre Channel.
NVMe-oF. We support RoCEv2 today and have been design partners with VMware on this as we have shown in VMworld 2019 and 2018. Look for VMware support in the near future.
Project Pacific and Tanzu. This is a very cool one. First Class Disks and vVols make for a very interesting storage option around mobility of K8s, combined with our CSI driver, this will be fun.
VM Analytics. In our SaaS management tool, called Pure1®, we provide the ability to dial home your VMware inventory and metrics (things like latency, CPU, memory, IOPS, throughput) for virtual disks, VMs, datastores, and hosts. This is then correlated back to the Pure resources for inventory analysis and control. We are working very hard on adding more and more features to this. Recently the collector for the metrics was converted to an easy-to-use OVA.
So we have a lot going on! I'm glad Gartner recognizes this — though we are just getting started. I think they will need to raise the ceiling of their rankings from 5 to 10 🙂
Gartner, Magic Quadrant for Primary Storage, 17 September 2019, Santhosh Rao | John Monroe | Roger W. Cox | Joseph Unsworth
Gartner, Critical Capabilities for Solid State Arrays, Roger W. Cox, Joseph Unsworth, Santhosh Rao, John Monroe, 3 October 2019
This graphic was published by Gartner, Inc. as part of a larger research document and should be evaluated in the context of the entire document. The Gartner document is available upon request from
https://www.purestorage.com/resources/type-a/gartner-critical-capabilities-ssa-2019.html
https://www.purestorage.com/resources/type-a/gartner-mq-2019.html
Gartner does not endorse any vendor, product or service depicted in its research publications, and does not advise technology users to select only those vendors with the highest ratings or other designation. Gartner research publications consist of the opinions of Gartner's research organization and should not be construed as statements of fact. Gartner disclaims all warranties, expressed or implied, with respect to this research, including any warranties of merchantability or fitness for a particular purpose.
---