I was working on rebuilding my VMware lab environment today and for simplicity's sake decided to leverage two external Platform Services Controllers (PSC), one for each of my vCenter environments (I need two because I am setting up Site Recovery Manager) in a federated manner. Akin to the previous term of "linked mode" If you are not familiar with PSC which was added in vSphere 6.0, check out this KB. I went with the 3rd deployment model illustrated in this KB.
One of my concerns was how did the Pure Storage FlashArray vSphere Web Client plugin behave in this type of a configuration? Or I suppose any plugin, but let's focus on this one. Using federated PSCs for more than one vCenter is akin to linked mode in prior versions, allows you log into the Web Client and see and manage more than one vCenter without opening multiple windows–they are all in the same inventory.
When you install the Pure Storage Web Client plugin, you log into any FlashArray GUI and then you can push it to your vCenter(s). When you login to vCenter, you can then configure one or more FlashArrays in the plugin to manage them from inside the Web Client.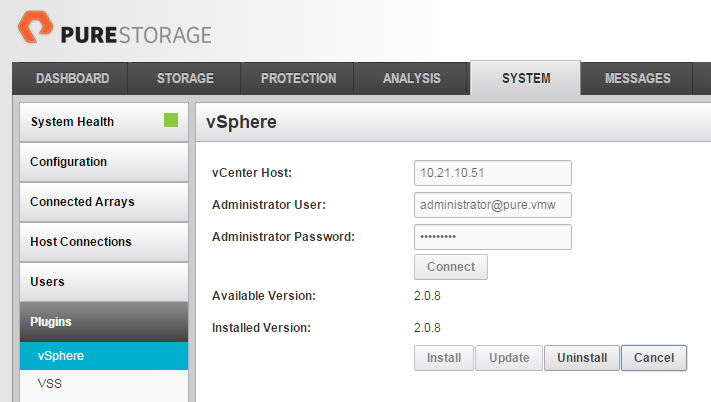 The point is that you enter in an address for the vCenter–not the PSC. In many situations, this is one in the same, but in this case it is not. My configuration is as so:
Two vCenters running in the Linux virtual appliance form (goku-vcenter and vegeta-vcenter)
Two PSCs, using the same SSO domain
I installed the Web Client plugin on Goku but not Vegeta. So to access either vCenter you can enter in their respective URL and you will be able to see either vCenter–the Pure Storage plugin home icon will appear in both, even though it is only installed in one:

Though if the vCenter with the plugin is installed is offline or the user logged in does not have credentials with permissions to the vCenter with it installed it will not appear:

If you are logged in and have access to both vCenters and you attempt to navigate to menus with the Pure Storage plugin on the vCenter where the plugin is not installed you will see a menu option but it will be empty: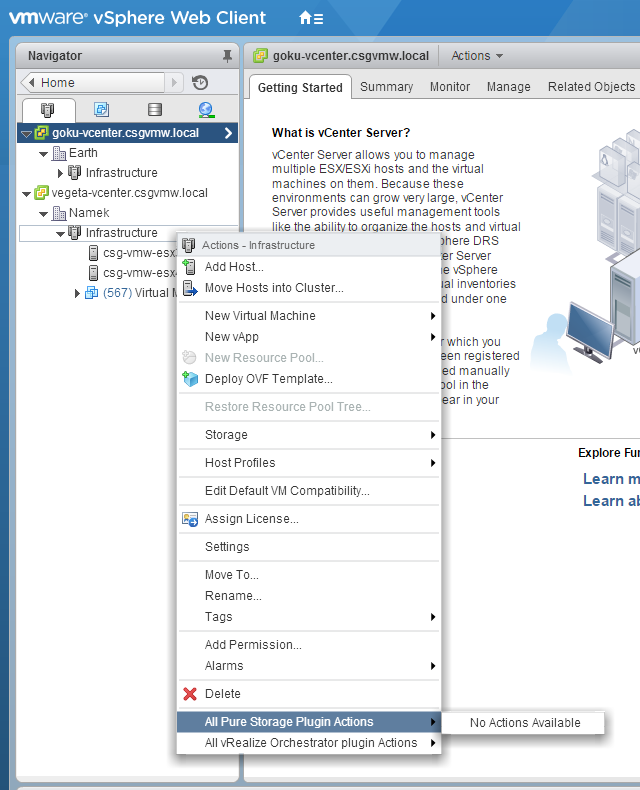 The in-context related object views such as snapshot management will not be there at all. Again, if you login with a user account that only has access to the vCenter without the plugin you will not even see what you see above.
If you login with an account that has access to at least the vCenter with the plugin, you will be able to add or remove FlashArrays from the homescreen. If you do not have access to that vCenter (or vCenters) with the plugin this will not appear: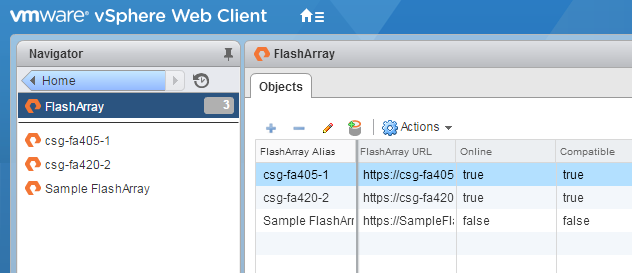 Pretty straight forward and it behaves as you would expect it to (and as you hope). To recap:
Even if the vCenters are federated, you still need to install the plugin on every vCenter you want to manage FlashArray storage for
If you do not have access to any vCenter with the plugin installed, you will not see any artifact of the plugin whatsoever.
If you have multiple vCenters and only a subset of them has the plugin installed (and you have access to at least one of that subset), you will see the home screen with the FlashArray configuration page but the vCenters without it installed will show a menu artifact but the plugin will not be usable in those vCenters where the plugin is not installed.
Once a FlashArray has been configured in the plugin it will be available to all vCenters that have the plugin installed.
For those of you who noticed, yes my latest VMware lab build is named after Dragonball Z characters.